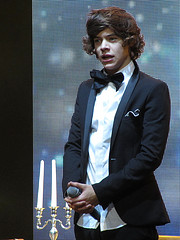 The newspapers could soon be filled with scandalous pictures and messages from a number of high-profile celebrities; television presenter Caroline Flack apparently lost her BlackBerry last weekend.
Caroline's phonebook contains the likes of fellow X Factor hosts Olly Murs and Dermot O'Leary, as well as music mogul Simon Cowell. However, the most concerning of all to Caroline will be the past messages and more from One Direction star Harry Styles.
The media went into a frenzy after Caroline began a relationship with Harry, and the lovers will be sure to have exchanged saucy messages and photographs during their relationship. With the loss of Caroline's BlackBerry, Harry will certainly be worried about what could soon be out in the papers.
If you have been careless in the past and are wondering how this may affect your future, why not take a tarot reading and gain some valuable insight?
Image Credit: Fiona McKinlay (flickr.com)