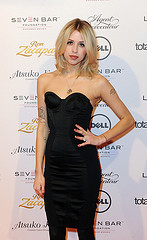 At just 23-years-old, Peaches Geldof has found love with rocker Thomas Cohen, married him and had a baby girl together. Now Peaches can add another member to their family brood; she has announced that she is pregnant with baby number two.
Their son Astala has only just reached 7 months, but Peaches and Thomas seem to think that they are ready to welcome another little bundle of joy to the family.
A baby's gender can be detected between 16 and 20 weeks of pregnancy, and as the celebrity parents know that their next kid will be a boy, it follows that the baby is likely to arrive in less than 6 months.
When she first found out about her second pregnancy, Peaches admitted that she had a "momentary panic" but is now as over the moon as her husband is about becoming a father for the second time.
If you and your partner are celebrating, why not take an online tarot reading and see what the future holds once the party has ended?
Image Credit: Dell Inc. (flickr.com)