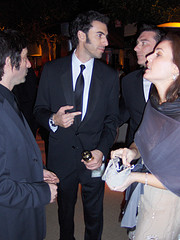 In a rare public appearance, outlandish comedian Sacha Baron Cohen and pretty wife Isla Fisher took their two children to a party in a park in LA, and together they were family perfection.
The celebrity couple attempted to keep a low profile with sunglasses, hats and casual clothing, and although they were spotted by the paps, all of the family looked like they were having a great day, with the kids sporting cute face paint and the famous pair chatting with other parents.
Isla has been busy promoting her latest film 'The Bachelorette', in which she stars alongside Kirsten Dunst and Lizzy Caplan, whilst Sacha has begun developing his latest comedy 'The Lesbian'. Of course, the Baron Cohen family will undoubtedly have their off days just like everyone else, but for that one day in the park it certainly looked like perfection.
If you are searching for that ideal family life and are thinking about what steps you could take to get there, why not take a free psychic reading for some valuable insight into your deepest desires?
Image Credit: Joe Shlabotnik (flickr.com)