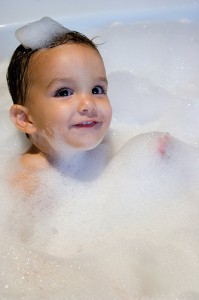 We revealed yesterday that TOWIE's Jessica Wright seemed to be set on marriage soon after she was spotted trying on engagement rings, but in the latest episode of the hit show, boyfriend Ricky Rayment put a huge dampener on her plans.
There were plenty of bubbles for him to burst when Jessica told him about her trip during a romantic bubble bath, but there was only one bubble that Ricky was intent on bursting.
After Jessica told him about the engagement ring and her plan to have children before reaching 32, Ricky responded by saying that he knew he would be with her forever, but didn't think that getting "married next week" was the right path for them.
The age difference between the two does seem to be taking its toll; Jessica plans for all this to happen in the next 5 years, meaning that Ricky would be married with kids by the age of 27, something which he described as "literally tied down central".
If you are wondering whether or not your fundamental desires are compatible with those of your partner, why not take a love psychic reading and get some positive guidance?
Image Credit: bdogggut34 (flickr.com)