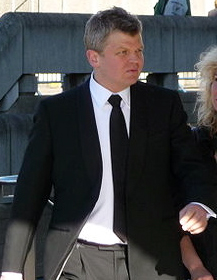 It seems that autumn has brought all the secret relationships in the UK out into the open as, along with Simon Cowell and Carmen Electra revealing their love, now Adrian Chiles and Catherine Tate have followed suit.
The TV presenter and feisty female comic have been secretly dating for the best part of a year, and although they make an unlikely pairing, they have finally made it public by holidaying together in the USA in full view of cameras.
Chiles and Tate flew out to Santa Monica in sunny Los Angeles to spend some time together in between their packed work schedules. Back home in the UK, they really enjoy spending time together and are very happy in each others company, often spending time round each other's houses.
They both carry more than their holiday baggage around with them however, with Chiles coming from a 2009 divorce with 2 children whilst Tate has a daughter from an 11 year relationship. Understandably, they have been taking it slow, but now that they have stepped into the public eye together it looks like they are getting serious.
If your relationship is causing you to feel stronger, deeper emotions, why not take an online psychic reading for some valuable insight into your relationship?
Image credit: Damien Everett (flickr.com)