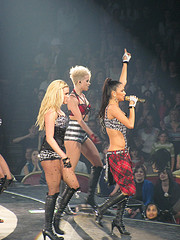 Ex-Pussycat Doll Carmit Bachar has spoken out about the band's split in 2010 and suggested that the reason behind the split was Nicole Scherzinger's jealousy of fellow performer Ashley Roberts.
Describing it as a "hideous undertone" in the Pussycat Dolls, Nicole was apparently jealous of Ashley's blonde hair and blue eyes and this jealousy manifested itself in an incredible negative energy.
Carmit said that herself and Ashley went to see a medium and spiritual healer to help them "heal themselves" after the Pussycat Dolls split up. In their hope to "find clarity", the medium was apparently the person who advised Ashley to go into the jungle for I'm a Celebrity. Ashley told Carmit that she felt like it was "her calling" to go on the show and she hopes to move on to better and brighter things because of it.
Ashley is now being viewed as the dark horse who could win the television show and it seems that her meetings with the clairvoyant have helped her get there.
If you are looking for some positive guidance in your life, why not take a free tarot reading and take a look at your deepest desires?
Image Credit: petercruise (flickr.com)