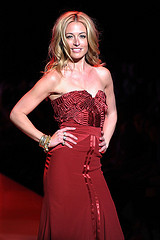 We reported back in August that Cat Deeley and Patrick Kielty were rumoured to be engaged and now we can happily reveal that the pair have got married.
The couple got married in a secret ceremony in Rome on Saturday with only 60 guests invited to attend. Invites were sent out only a couple of days before the ceremony and to help out guests with the last minute difficulty, Cat and Patrick covered the travel expenses for them.
They got married at St Isidore's College Church, which is close to the Vatican, and even flew Patrick's Belfast priest friend Friar Gary Donegan to conduct mass at the ceremony.
Although Cat and Patrick have only been together for 10 months, their romantic connection has been strong enough for them to have made the commitment of marriage to one another. Having been friends for a decade, their relationship as friends has certainly been part of their journey towards love.
If you are wondering what direction your love life will be heading in next, why not take a free tarot reading for some valuable insight into your deepest feelings?
Image Credit: Viva Vivanista (flickr.com)