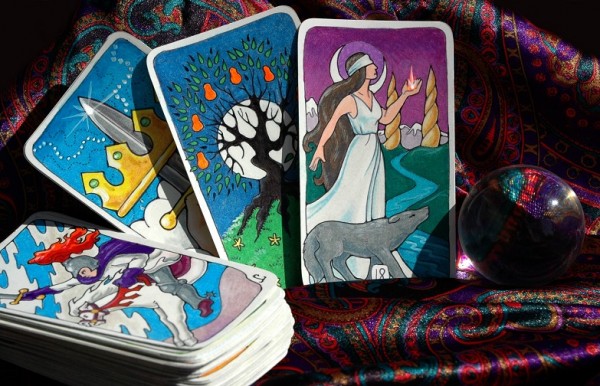 Experience Level
If you are new to Tarot it is worth taking your time deciding which Tarot deck you should buy. Ideally, it is best to consider choosing a deck that has easy to understand symbols and images. For this reason, the classic Rider Waite deck is recommended as the best Tarot deck for novice readers. Once you become confident in interpreting and reading the cards you can select a new, more complex Tarot deck to match your experience level.
Personal Connection
Many specialist shops stock a wide range of Tarot cards, and these are sometimes displayed in a 'look book' that allows you to view the card design and symbols. Some shops have display decks so that you get an opportunity to handle the cards. Look at, and touch, the Tarot cards so that you can get a feel for the deck that resonates with you. You are likely to find that you are easily drawn to the energy of the cards that you also find the most visually appealing.
Illustrations, Images And Themes
Take your time exploring the colourful designs of the Tarot cards, before selecting your perfect deck. You may be drawn to a particular style of artwork, certain colours or dramatic designs that grab your attention. Many Tarot decks also feature themes that may be visually appealing to you. Popular themes include Egyptian and Greek Mythology, Fairy Tale, Elementals and Wicca.
Study the Minor and Major Arcana cards and see if you can decipher a meaning for the cards that you are looking at. You will instinctive know which images and themes are most suited to your psychic skill level.
Information Resources
As you begin your Tarot reading adventure you may benefit from having access to interpretation resources and materials. Most Tarot decks include a little pamphlet or booklet that outlines the common interpretation of the individual cards. It is also worth taking a look at the vast number of specialist Tarot books that can easily be found in spiritual/psychic gift shops.
A psychic reading is another helpful resource that can help you identify your key psychic skills. Call one of our experienced psychic readers today to find out more.
Identify Your Purpose
When choosing a Tarot deck it makes sense to consider how you will use the cards. Do you plan to use the Tarot as a study reference? Do you want to use the cards to give practice readings for family and friends? Do you want to buy a Tarot deck as an addition to other Tarot reading resources that you already have? If you plan to use the cards for your own purpose choose a Tarot deck that appeals to you, and that resonates with you energetically. If your purpose is to read the cards for others, look for a Tarot deck that is universally appealing.
Pick Your Own
Some psychics believe that Tarot cards should always be accepted as a gift, and not bought for your own use. If you prefer to stick with tradition ask a friend to buy you a Tarot deck for your next birthday. If you're happy to pick your own, all you have to do is decide the best Tarot deck for you!