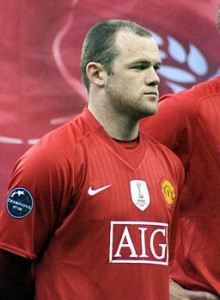 Coleen Rooney has plenty to celebrate, but it would be inadvisable for her to do any of the rough and tumble goal celebrations that husband Wayne does on the football pitch; she announced this week that she is pregnant.
Coleen took to Twitter last night to announce her and Wayne's exciting news, something that a few people have apparently managed to guess already. Despite the traditional 3 month waiting period for birth announcements, the football star's wife threw caution to the winds and excitedly spread the news.
The couple have had a reasonably smooth relationship, particularly in light of some of the other scandalous happenings between footballers and their WAGS. The childhood sweethearts married in 2008 and have a 2 year old son named Kai, whose birth apparently made Wayne clean up his act to become a better role model.
The new baby is due in May and looks set to become part of the next football and fashion golden family, behind global powerhouse the Beckhams of course.
If your relationship is moving forward in leaps and bounds, why not take a love psychic reading and see what lies ahead for you and your partner?
Image Credit: Gordon Flood (commons.wikimedia.org)