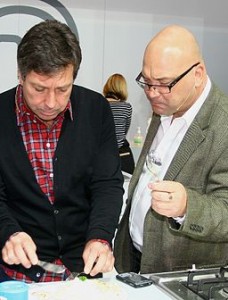 Gregg Wallace is well known as one of the faces of Masterchef and offers great support to the contestants throughout the competition, but now he has revealed that the tables had turned and he found Masterchef to be a great support for him through his marriage breakdown.
The jolly judge, famed for his love of puddings, has revealed that when his third marriage came to an end this year, he found that working with his co-host John Torode and mentoring the contestants kept him going through the difficult year.
For Gregg, it has been a welcome distraction from yet another failed marriage, the latest being to Heidi who is 17 years his junior.
Things may have become a little difficult between them as Heidi is remaining as Gregg's PA, but his time at work has certainly kept him busy enough to keep his life on track. Channelling his efforts into something he feels incredibly passionate about is certainly a good coping mechanism.
If you are suffering from heartache and are looking for some direction in your life, why not take a love tarot reading for some valuable insight?
Image credit: Brian Minkoff-London Pixels (commons.wikimedia.org)