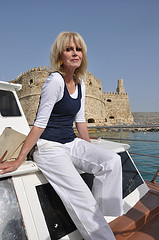 Pictures of Joanna Lumley and Leonardo DiCaprio smooching have caught the eyes of people all over the world.
There need not have been any worry though; the pair were filming a scene for their new movie The Wolf of Wall Street. The movie sees DiCaprio play real life stockbroker-turned convict Jordan Belfort, who founded a pump-and-dump scheme, The Boiler Room, in 1987.
Joanna plays a love interest in the movie, and whilst not filming their love scenes the actors both get on very well, with photos showing them talking and walking around with linked arms.
Perhaps Joanna, who has been happily married for 26 years, could teach Leo a thing or two about lasting relationships; he split from his latest girlfriend, Victoria's Secret model Erin Heatherton, just last week. A few pieces of advice from Joanna may prove to be exactly what he needs to hold down a relationship.
If you are looking for some romantic advice, why not take an online psychic reading and see what positive guidance you could receive?
Image Credit: Lwp Kommunikáció (flickr.com)