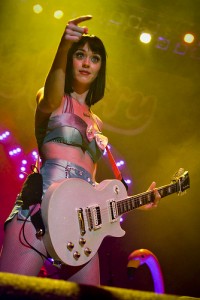 The reason behind the split between pop star Katy Perry and John Mayer has reportedly been put down to Katy's relationship with her ex-husband Russell Brand.
Although many believed that Katy and Russell were not on good terms after they broke up, a source told reporters that she constantly mentioned Russell during her 7 month relationship with John, something which frequently drove him into a jealous rage.
The source goes on to say that Katy was "unhappy" about John constantly flirting with other girls, even if she was standing right by him, so she "gave it back" in the form of her ex-husband.
Katy and Russell were reportedly really close when they were together, and John couldn't get used to the fact that he wasn't her main focus the entire time.
Despite the heartache, John recently appeared on the Ellen DeGeneres show and said that he was "happier" without her.
If you are wondering where your happiness lies, why not take a free psychic reading and see what lies in your future?
Image Credit: José Goulão (flickr.com)