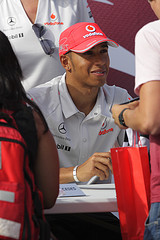 Lewis Hamilton may now be feeling that girlfriend Nicole Scherzinger is poison after pictures showing Nicole getting close to Chris Brown left him fuming.
The F1 superstar and X Factor judge have apparently been in crisis talks this week after separating for almost a month. Lewis called it off with Nicole after their hectic work schedules got in the way of them having anything that resembled a healthy, working relationship.
Photos of Nicole appearing to kiss singer Chris Brown left Lewis very angry however, and although Nicole insists that she was simply attempting to talk to him in a noisy nightclub and the picture is blurry, Lewis is still wanting to hear it from her himself.
He is now hoping to reconcile his relationship with her after deciding that long distance is better than nothing. Apparently, the photos have shown Lewis how he truly feels about Nicole.
If you want to know how you truly feel about a difficult relationship, why not take a love tarot reading for some valuable insight?
Image Credit: First Stop – Bridgestone's UK tyre retail network (flickr.com)