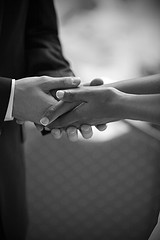 Take Me Out may not always match the right people together, but the hosts of Take Me Out: the Gossip Mark Wright and Zoe Hardman seem to be hitting it off nicely!
Mark was spotted holding hands with his co-host Zoe Hardman as they arrived at the ITV 2 end of season party, a move which could only suggest that the pair are romantically involved.
The annual party saw a large number of ITV 2 regulars arrive at the W London hotel, including a number of Mark's former co-stars from TOWIE. Luckily, ex-girlfriend Lauren was attending a different party that evening, so a potentially awkward situation was avoided.
Mark and Zoe turned a number of heads at the bash with their hand-holding, but a representative for Mark stated that "they are not dating" and only exist as friends and work colleagues. In this case, actions seem to be speaking louder than words though!
If you are wondering whether your relationship should go public, why not take a love tarot reading and see how your heart truly feels?
Image Credit: CharlieTPhotographic (flickr.com)