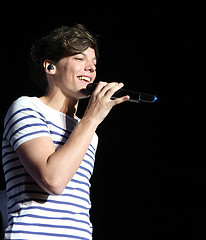 One Direction have achieved an astronomical level of fame, not just for their catchy pop tunes but also for their romantic endeavours. In a recent interview with the lads, Cosmopolitan magazine published details of exactly what they look for in a lover.
Harry Styles, the casanova of the group, has most famously dated Caroline Flack who is 15 years his senior, and recently admitted that he gave Peaches Geldof a fake mobile phone number. He told the magazine that his most desirable feature in a woman is ambition, a quality he described as "attractive".
Band mate Louis Tomlinson also opened up about his love life with student girlfriend Eleanor Calder, saying "she's really great" and that the key to a relationship is being "best friends".
The One Direction lads were named Men of the Year at the Cosmopolitan awards last week, so even more eager female fans will certainly be trying to prove that they are ambitious and a good friend to try and bag one of the single boys.
If you are wondering what the key to the heart of your love interest is, why not take a free psychic reading and see what you could be doing in the future?
Image Credit: Eva Rinaldi (flickr.com)