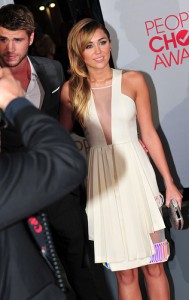 Pop star and actress Miley Cyrus has shed some light on her notoriously private engagement with Australian actor Liam Hemsworth in an interview with a leading publication.
The 20-year-old superstar – whose relationship has been at the centre of much speculation over the past few weeks – revealed to the June issue of Elle UK magazine that she has decided to keep their romance away from the spotlight after previously being more open.
Calling her engagement a 'natural progression' from moving in with each other, adding that she makes a constant effort not to share 'personal stuff' on social networking sites such as Twitter anymore.
Clearly deeply in love with her beau, Miley looks to have found the one. If you are entering a new relationship but want certain questions answering, take a love tarot reading today and find out if he or she is the one for you.
Image Credit: Music4mix (Flickr)