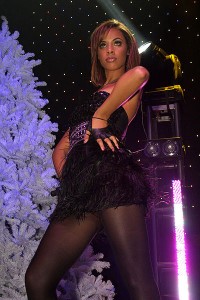 After a slip of the tongue by Oritse Williams from JLS, tongues are wagging saying that Rochelle and Marvin Humes are expecting a baby boy.
The couple are expecting the baby to arrive soon, and have managed to keep the gender of the baby under wraps until now. Oritse may have accidentally ruined all of that hard work after he accidentally let a few words slip during an interview.
Oritse has been talking to OMG Yahoo, and in his excitement, Oritse accidentally said: "he's coming on tour, we're going to spoil him".
Rochelle and Marvin have been very secretive about the gender of the baby, and Marvin even said that he was hoping to call the child 'London', which didn't give anything away. Fans thought they had it sussed when Rochelle was spotted looking at pink dresses, but Oritse's slip of the tongue has given them other ideas.
If you have a secret which you are struggling to keep, why not take a love psychic reading and see what positive guidance you could get?
Image Credit: Liton Ali (commons.wikimedia.org)