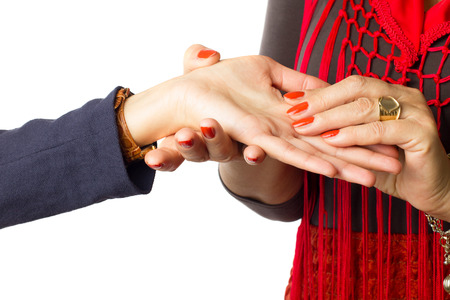 Psychic readings that focus entirely on learning future outcomes tend not to be as helpful as empowering readings that offer insight, clarity and validation. Empowering readings can help you put things into perspective and often provide penny-dropping moments where you gain greater self-awareness.
A psychic prediction reading is not an exact science, and therefore may provide information that does not actually happen. This is because free will usually comes into play and alters the predicted course of events and outcomes.
Free Will Comes Into Play
We all have free will, and the freedom of choice to alter the prediction outcome of a psychic reading. During a psychic prediction reading the psychic reader will tune into your energetic vibration, connect with your spiritual guides and interpret the information depicted in the selected tarot cards. The psychic reader will also tap into your past and your present, and will be able to provide insight into where you are headed if you stay on course.
Prediction readings can be helpful if you want to gain insight into whether or not a potential situation or opportunity is right for you, but may not be the best reading choice for other life issues. Choose an empowering reading that gives you control of your life.
Psychics Don't Know Everything
Psychic readers are not privy to everything and therefore do not know exactly how all events and situations will pan out. Some people choose to take what psychics say as fact, and decide to focus on this information in order to attract it into their life experience. Other people allow psychic readings to completely disempower them, as they become dependent on the information that psychics provide, instead of making empowered personal choices.
No matter how accurate and insightful your psychic reader is, their information can never be 100% reliable or accurate. Free will and spiritual growth influence and alter your potential outcomes from time to time. Instead of seeking predictive information use your psychic reading to gain better self-awareness and validation of your own psychic sense of feeling, seeing and knowing.
There Are Things You Need To Learn For Soul Growth
If you already know everything that is going to happen you limit your spiritual learning. Life experiences, good and not so good, provide plenty of rich opportunities for your soul's growth and evolution. Allowing life to unfold, with perhaps a little psychic guidance from time to time, is the perfect balance.
To keep you on track, on your spiritual path, your Higher Self and guides may also opt to withhold some information from you, in order to progress your soul's growth. When this happens your psychic reader will be unable to give you the information that you seek, no matter how hard he/she tries. By withholding this information you are likely to trust your own guidance and insight more, and will therefore only require psychic readings for validation and clarity purposes.
For insightful and empowering guidance, call one of our experienced psychic readers today.