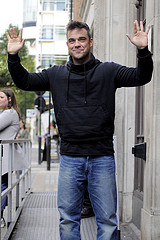 Robbie Williams will now be singing She's The One to a new little lady in his life as he and wife Ayda have announced the birth of their baby girl.
The singer released a statement saying that they were all "rockin'" after Ayda went into labour yesterday, a full 8 days earlier than planned. Luckily, Robbie was on hand to rush his wife to a private hospital in London and their little bundle of joy was delivered safely.
The couple have decided to name their baby Theodora "Teddy" Rose and are looking forward to starting their life together as a family.
The former Take That singer has previously admitted that he is daunted by the idea of becoming a father. His previous rock and roll lifestyle meant that he had a few stints in rehab and he has said that he doesn't feel like he really knows how to look after himself. Robbie has bounced back from that life however and his wife, friends and family are sure to be supportive.
If there is a big change happening in your life and you are looking for some support, why not take an online psychic reading for some valuable insight into your life?
Image credit: DWNews Recent Celeb Gallery (flickr.com)