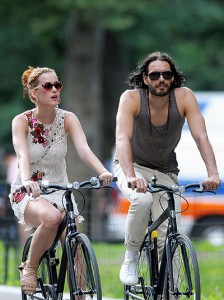 British comedian Russell Brand has kept quiet on the relationship front for a few months after he was seen with a string of women following his divorce from pop star Katy Perry, and he now looks keen to show the world that he is over her after they accidentally both attended the same basketball game.
The Los Angeles Lakers took on the Dallas Mavericks this week, and whilst Katy attended the game along with her father, Russell was the responsible adult to two young boys.
Both were pictured sitting quite close to the action and must have known that the other was there. Neither of them appeared to let that hold them back; Katy was laughing and cheering on the Lakers for the entire match and Russell got chatting to fellow spectator David Beckham.
Although the divorced pair did not meet at the match, both have proved that bouncing back from a failed relationship is possible with loving support and insightful advice.
If you are trying to get over a hurdle in your life, why not try a tarot reading and see what you need to do to make that final push?
Image Credit: meligrosa (commons.wikimedia.org)