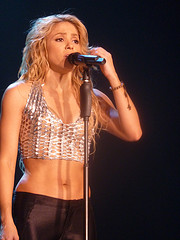 Columbian singer Shakira has this week announced that she is expecting a baby with her soccer boyfriend Gerard Pique.
She revealed the news of the pregnancy on her blog along with the announcement that she was cancelling a few planned gigs that were coming up soon. One of the biggest that Shakira will be missing is the iHeartRadio Music Festival in Las Vegas, but she has said that she is sure it will be spectacular.
Shakira has been dating the Barcelona player for over two years but kept it quiet for over a year before revealing it all on Twitter. She posted a picture of him on her Twitter account, calling him "my sunshine".
Things are looking promising for the couple who are both overjoyed at the news of the impending birth of their child. Shakira's previous romance saw her date an Argentine president's son for 11 years, so hopefully, despite her short relationship with Gerard Pique, her new partnership will be a more lasting one for the sake of their baby.
If you have recently received some good news and are wondering what your next steps should be, why not take a free tarot reading for some sensitive advice?
Image credit: oouinouin (flickr.com)