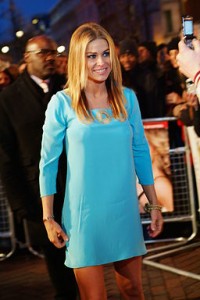 British music mogul Simon Cowell wowed onlookers this week as his secret relationship with former Baywatch star Carmen Electra finally came to the surface.
At Cecconi's, a swanky restaurant in Hollywood, diners witnessed the pair getting cosy even though they were dining in a group with friends. According to one diner, they began holding hands and looked into each others eyes constantly, "then they started making out".
Back in February, there was some romantic tension on-screen between the pair when Carmen stepped in to fill Amanda Holden's spot on Britain's Got Talent. It just seemed like a ploy to make good telly at the time, but clearly they both had other things on their minds.
Both Simon and Carmen have come from relationships that have broken down this year, with Simon calling it off with Mezhgan Hussainy in January and Carmen breaking up with her fiancé in May.
Apparently, both are taking it slowly and are just "enjoying themselves" for the moment.
If you are stepping out into a new relationship, why not take a love psychic reading for a deeper look into your developing feelings?
Image credit: S Pakhrin (commons.wikimedia.org)