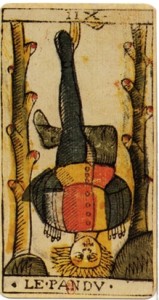 Those new to tarot reading may find some of the tarot cards a bit worrying, with the Hanged Man, Death and the Devil immediately springing to mind. A tarot card reader will know much more about the subtle meanings of these cards and can provide a reading that can help you gain insight rather than worrying you. To help ease your mind, here is a brief guide to some of the cards with a more daunting appearance.
The Hanged Man depicts a man who is strung upside down and has his hands and feet bound behind his back. The upside down nature of the man can often be a sign that a change in perspective could help your current situation, whilst the bound hands and feet show that you feel held back by something.
The Devil is viewed very negatively as images of an evil monster coming to take us to Hell immediately come to mind. Rather than being an external force however, the Devil represents our own inner demons and the troubles that lurk in our past. The card is more about taking a fresh look at yourself and trying to make changes for the better.
To read more about Tarot misconceptions click here to go to our reader article by Penny Miracle.
Image Credit: Fuzzypeg (commons.wikimedia.org)