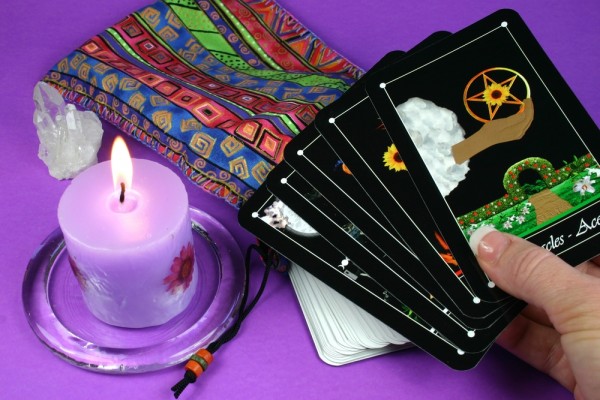 The tarot is a powerful esoteric tool that can be effectively used for gaining valuable insight and guidance throughout the year. Tapping into tarot's magical powers requires expert knowledge of the cards, and of the multitude of variable interpretations of the images. However, you do not need to be a tarot master to access this information.
A Powerful Psychic Tool
Many professional psychic and spiritual readers regularly use the tarot deck as a means of speeding up the tuning in process. When you call a psychic tarot reader he/she will pick up the energy vibrations of your voice, as they shuffle the tarot cards. The cards are then positioned in an appropriate spread and the reading begins.
What Is Tarot Power?
The tarot is at its most powerful when you have a specific enquiry or question to ask. Although many psychic and spiritual readers give overview readings – that provide insight and information on many aspects of your life – the best readings focus on one particular subject at a time. This allows the tarot to open up the question, in order to delve deeper into the heart of the matter.
A tarot reading can help you to take back control of your life and you gain a fresh perspective. A reading offers guidance and can empower you to make steady forward progress. When crossroads and stalemate situations are faced, the tarot can identify probable choices so that you can make the best, informed decisions for you.
When it comes to New Year success, the tarot's power can charge your energy with the message of the cards, so that you are more driven to achieve your focused goals.
How To Tap Into Tarot Power
To fully tap into the power of tarot it is necessary to ask empowerment related questions. If you are seeking spiritual guidance you must take control and accept all situations. Therefore your questions are likely to be focused on gaining insight into how you currently give your power away, and what inner and outer actions you can take to improve your experiences.
The tarot cards that are selected, by the reader or you, will provide the valuable answers to your questions. Tarot power readings are not for the faint-hearted, as it is imperative that you take on board the information that the cards reveal, regardless of whether or not it is something that you want to hear.
Tarot power spread readings can be a soul-boosting experience that empowers you to make incredible life changes and positive progress. For guaranteed New Year success book a call with one of our experienced psychic or spiritual readers today.
Personal Exploration
If you have an interest in psychic connection and are fascinated by the power of the tarot, it is a good idea to purchase your own set of tarot cards. Familiarising yourself with the colourful and distinctive images of each of the cards will help you establish your own unique connection with this powerful tool. You may then decide to study the tarot and to practice giving simple 3 card readings.