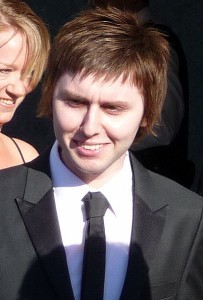 One of the top celebrity weddings of 2012 saw star of The Inbetweeners James Buckley marry his sweetheart Clair Meek, and now the couple have announced another reason for celebration; Clair is pregnant with their second child.
James and Clair already have a son together, 1-year-old Harrison, and have told the press that they do not know if he will be having a little brother or little sister yet.
James has said that he would love a "daddy's little princess", but also joked that if they were to have another boy then he could soon create half the cast of The Inbetweeners.
The pair took the red carpet for the premiere of new Danny Boyle film Trance, and although they only announced the pregnancy recently, the size of Clair's bump showed that there is not long to go. In fact, the baby is due in mid-August.
If you are expecting big changes in your life, why not take a psychic reading and see what lies around the corner for you?
Image Credit: Damo1977 (commons.wikimedia.org)