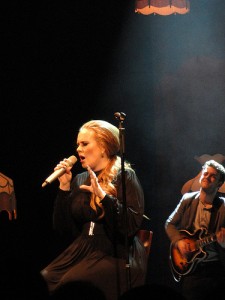 Adele has kept out of the spotlight since the birth of her child in October, but rumours have surfaced that she will be making her first public appearance at the Golden Globe Awards on 13th January.
The star has virtually disappeared after she gave birth to her child with partner Simon Konecki and has not even officially announced the birth of the baby. Her mysterious behaviour has meant that there is a great deal of anticipation surrounding the event.
Luck will hopefully be on her side as she has been nominated for the Golden Globe for Best Original Song for Skyfall, a track which could also win her an Oscar nomination at the very least.
Her long stay out of the limelight may backfire on her as there will undoubtedly be a great deal of interest surrounding her appearance at the awards, something which she has so far shunned so that she can bring up her baby in peace. Fingers are crossed for Adele to have a smooth start back into the spotlight.
If you are wondering what success lies in your future, why not take a free tarot reading and see what you are really capable of achieving?
Image Credit: nikotransmission (flickr.com)