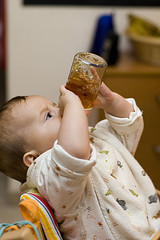 Chantelle Houghton and Alex Reid have been at loggerheads since their hostile break up, but the couple seem to have been able to set their differences aside for a little while as Alex has finally been allowed to see their daughter for the first time in 8 weeks.
Chantelle only recently told the papers that she had received no child support money from the ex-cage fighter, further claiming that he had instead spent £500 on toys for his sexual fetishes.
Chantelle has allowed Alex to see their daughter Dolly, dropping the child off at her mother's house a full hour before Alex arrived. After seeing his daughter, Alex took to Twitter with a photo of his father holding Dolly, saying that the visit was "the most precious 2 hours" he had had in a long time.
Although it seems that things are getting better between the two, it is yet to be seen if they can continue to get along.
If you are trying to patch things up with your partner, why not take an online psychic reading and get some valuable insight into the future?
Image Credit: Tom & Katrien (flickr.com)