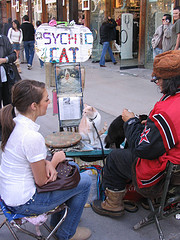 The son of the actor who plays Ken Barlow is about to be handed a top job in an American spiritual network and he has thanked his dad for helping him keep in touch with his spiritual side from a young age, something which has undoubtedly contributed to his success.
As well as occasionally seeking advice from a love tarot reading, Bill Roache and his son Linus frequently meditated together and come from a family which has embraced spirituality with open arms. Bill and his late wife Anna were skilled tarot card readers and even became druids for a while.
Although Linus has had a successful career as an actor, starring in television series Law & Order and appearing in ITV drama Titanic, he said that acting alone "wouldn't make me happy". He also sought help from an animal psychic to find out why his cat continually climbed 80ft trees, also using the same psychic to contact his deceased cat Jack, bringing peace to his spirit.
Image Credit: Barry M (flickr.com)