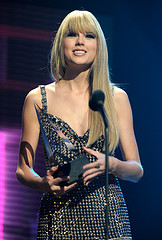 The romance between Harry Styles and Taylor Swift has swiftly been moving forward on UK soil as the couple have been seen enjoying each other's company on a holiday in Cumbria.
The couple spent the day with Harry's sister and her boyfriend in Bowness-on-Windemere before Harry took Taylor to buy some cute toys from the World of Beatrix Potter for friends back in the USA.
To complete the British trip, Harry took Taylor to a traditional pub where they enjoyed some hearty, British food, including black pudding which Harry made her try.
They also enjoyed a romantic walk in the Peak District and several excited fans had a photo with the couple on their travels, with the pair certainly looking like more than just good friends.
If you are thinking about how to move your romantic relationship forward, why not take a free psychic reading and see what lies in the future for you and your partner?
Image Credit: avrilllllla (flickr.com)