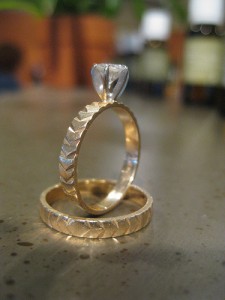 Model Heidi Klum was forced to quash wedding rumours recently after she and boyfriend Martin Kristen were spotted wearing matching Tiffany rings.
Heidi Klum sensationally ended her seven-year marriage to singer Seal in April 2012, and rumours that her break up was down to her growing relationship with bodyguard Martin Kristen were near enough confirmed when she officially announced that she was dating him from September 2012 onwards.
Now, she seems to be just as happy with bodyguard Martin as he is with her, and recent photos of the couple show them both wearing matching Tiffany & Co. Etoile rings on their right ring fingers.
Speaking to a popular entertainment news website, Heidi announced that "There's no engagement" and described the ring simply as "just something nice".
Although the gold bands with diamonds are sure to be meaningful to the pair, it seems that Heidi is not quite ready to give marriage another go.
If you are unsure of whether you should give something another shot, why not take an online psychic reading and get some positive psychic guidance?
Image Credit: sylvar (flickr.com)