What does "Tarot" mean?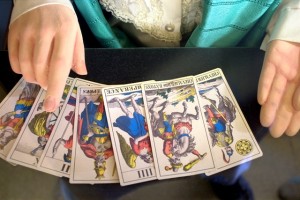 •"Tarot" could be a derivative of the Ancient Egyptian God "Thoth", God of Magic and Words.  Tarot is often referred to as "the royal road to wisdom" which derives from the ancient Egyptian words "tar" (royal) and "ro" (road).
•Some suggest that "tarot" is a play on the word "Torah", the Hebrew book of law.
•"Tarot" could be an anagram of the Latin word "rota" meaning "wheel" with a silent "t" added somewhere in history.
• Some speculate that "tarot" could come from the Arabic words "turuq" which means "ways" or "taraka" meaning "to leave, omit, abandon".
Origins of Tarot
No-one can say exactly who created Tarot, or where it came from.  Evidence of the Tarot's footprints through time can be found around the globe- some say that the Knights Templar brought something like Tarot to Europe after crusades to the Holy Land; others theorise that gypsies from the Far East brought Tarot to Europe during the Middle Ages.  Numbered cards associated with mysticism were known to exist in ancient India and the Far East.
14th Century
Most believe that the first Tarot decks originated in Europe during the early 14th century, based on early Italian four-suited playing cards.  Some of the first known Tarot cards in the mid 1940's were hand painted, known as "Viscounti Sforza" and belonged to the Duke of Milan.  The "Mantegna Deck" was owned by an exiled Italian prince, Francois Fibba, made in the time between 1470-85.  Another well known early Tarot deck is the 15th century "Marseille Deck".
16th Century
John Dee, a 16th century British astrologer claimed that he used Tarot to "talk to angels", using something like the Renaissance Memory system, which is based on a system of memorisation invented by the Greeks in which images are used to help recall symbolic representations; these symbols were usually from magical talismans and occult practices, and Tarot still holds a key to "the art of memory".
18th Century
In the 18th century, French linguist, cleric, occultist and master Freemason, Antoine Court de Gebelin claimed that the 22 Major Arcana cards of Tarot made up an ancient Egyptian book or a set of tablets that contained mystical knowledge, remnants of the Book of Thoth.  Gebelin was the one to establish the link of Tarot being "the royal road to wisdom", and believed that these tablets were brought to Europe by magi (priests of the ancient Persian religion Zoroastriarism) in early Medieval times, and claimed that they had been hidden away or stolen, lost within history.
19th Century
With the upsurge of interest in the arts of magic,mysticism and the occult, Tarot spread from Europe to North America and other parts of the world.  Kabbalist and philosopher Eliphas Levi believed that the source of Tarot had roots in the sacred Hebrew Enochian alphabet, and theorised that "Tarot did not necessarily predict <but> revealed powerful knowledge to the wise".
Social attitudes towards Tarot began to change in the late 19th century as a distinction was created between divination and fortune telling.  Divination derives from the Latin word "divinus" which means to be inspired by the gods, and the art of divining became seen as being for "the serious, intellectual elitist who coverted wisdom" which fortune telling developed a reputation as "a cheap way to make money by conning women and lower classes" and the public's trust in this once traditional system faltered.
Influence of "The Golden Dawn"
In 1888 The Heremtic Order of the Golden Dawn was formed by William Wynn Westcott (doctor and master Freemason) and Samual Mathers (an eccentric Victorian Britain).  Mathers linked parts from many different esoteric beliefs, including Eastern practices, Medieval magic texts, the Kaballah, and Egyptian magic to create a magical system, echoes of the symbolism being used in what is known as the Universal Rider-Waite deck, designed by Dr Arthur Edward Waite- a member of the Golden Dawn- and illustrated by artist Pamela Colman Smith; this Tarot deck was first published in January 1909 and remains one of the most popular decks to date.  In 1907 the infamously dark British occultist Aleistar Crowley left the Golden Dawn to form the Order of Silver Star, and in the 1940's he designed the Toth Tarot deck with Lady Freida Harris.  Crow key's deck used symbolism from various sources including Egyptian, Christain, Greed and Eastern, as well as elements from other esoteric pathways.  Crowley believed that Tarot was "an intelligence", a living force and "a key to the archetypal world within the self".
Modern Tarot
In present day, stigmas around Tarot are breaking down.  Buying a set of Tarot cards is relatively easy as various designs of decks are available online and in high street stores.  Having a Tarot reading has also become more accessible thanks to the Internet and  old laws out ruling "witchcraft practices" being abolished.  Indeed, Tarot reading is no longer secretive or exclusive to gypsies or mystics or witches- Tarot is becoming more accepted and understood by the mainstream, and is being recognised as a tool of affirmation and self-reflection instead of predicting the future.  Tarot is used by people around the world from all walks of life, its power of inspiration and inner guidance providing positive support through times of uncertainty and trouble; to help us consider our options when we believe we have none, its symbolic powers helping us reflect on our feelings, perceptions and choices.
Written by Tahilia 0450