Celebrated on 23 April every year, St George's Day is England's national day. The commemorative day honors the country's patron saint on the anniversary of his death. Although not a national holiday buildings are usually decorated with flags bearing the distinctive red St George's cross.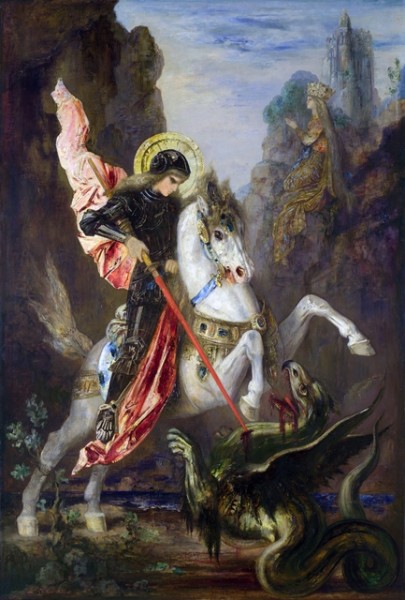 According to folklore St George was a brave soldier in the Roman army, who died for his beliefs. The historical figure has worldwide fame as the dragon-slaying patron saint of England, and is always depicted as a horse riding knight carrying a shield that is embellished with a red cross. The romantic version of the historical tale sees St George as a dragon slaying hero who saved the life of a princess.
It is thought that St George was a prominent Christian figure in the reign of the Roman Emperor Diocletian. As a Roman army officer George refused to carry out the Emperor's sacrificial orders and was tortured to death on April 23rd. He is buried in the town of Lod, in Israel. St George is also the patron saint of many places: Malta, Greece, Portugal, Ethiopia, Lithuania, Palestine, Bulgaria and Beirut, to name but a few.
St George's Cross
St George's heroic image is associated with a red cross on a white background. This symbolic emblem was adopted and worn by Richard The Lion Heart's soldiers in the 12th century, and was known as St George's cross.
The simplistic design of a red cross on a white background is used as England's national flag, and also forms part of the Union Flag, which is the national flag of the United Kingdom of Great Britain and Northern Ireland. The flag has also been adopted as a national symbol by English national football, rugby and cricket teams and fans. At international matches fans will wave flags, wear scarves and decorate their faces with a painted St George's cross.
Celebratory Events
Although once a popular national holiday in England, St George's Day is no longer a day off work. By the end of the 18th century the interest in celebrating his memory had waned considerably. More recently however, there has been a resurge of public interest in making the day a public holiday in England.
St George's Day is now an annual event that is generally celebrated with scout and guide parades and other social activities. True English traditionalists wear a red rose in their lapel button hole or decorate their home with red and white flag bunting. Following national tradition there is always a commemorative St George's Day church service held on the Sunday closest to April 23rd.
Interesting Facts
• Very few of the British population actually know the date of St George's day, this is despite the fact that St. George has been the patron saint of England since the 14th century.
• Seven out of 10 young people do not know who St George is, and an estimated quarter of the people living in England do not know the name of their country's patron saint.
• St George's Day also happens to be Shakespeare's birthday.