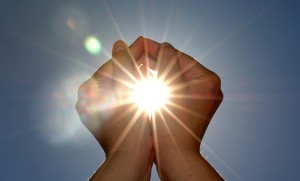 LIGHT: (mass NOUN) The natural agent that stimulates sight & makes things visible; a source of illumination.
ENLIGHTENMENT: (mass NOUN) Spiritual illumination by divine truth.
Visible light is electromagnetic radiation that falls within the response range of the human retina (between 390 nm violet light and 740 nm red light). The difference between coloured light to that of any other electromagnetic spectrum is that it is visible to the human eye. In the 20th century, Sir Issac Newton discovered that light contained of energy quanta called 'photons' which behaved partly like waves and partly like particles.
White light consists of an equal balance of all visible wavelengths which can be separated into colours of the spectrum. This is often why many meditations, visualisations and healers work with white light energy as it contains a mixture of all the colour vibrations.
Light Biology
Our eyes are the primary organs for experiencing senses of light. These reputed 'windows to your soul' allow light to be carried from the visual cortex of our eyes to the centre or our brains, travelling along nerves and sending signals to the primitive and vital parts of brain.
The eyes contain specialised light sensitive cells:
•RODS- sensitive to dim light, most reactive to blue & green light •CONES-responsive in bright light, react differently to colours based on the pigment
When stimulated, these photoelectric cells send impulses via the optic nerve to the brain where the signals are received and interpreted, effecting cellular function, physical activity, emotional and mental states. Light travels along the nerves of our retina directly to areas of the brain, and has an immediate effect on the involuntary nervous system changing our physical,mental and emotional states, reaching the hypothalamus, the pituitary and pineal glands, all of which are sensitive and react to light.
Hypothalamus: A small organ that regulates most of the vital life-sustaining functions of the body such as control of the autonomic nervous system, energy levels, internal temperature, cycles of rest and activity, broth, circulation and breathing, reproduction and emotions.
Pituitary Gland: An organ that mainly controls the endocrine system and hormone secretions.
Pineal Gland: Modifies our behaviour patterns according to the amount of light it receives and regulates our energy levels.
Some spiritual healers work with correspondences between the endocrine glands and subtle energy systems of the body (or 'aura') indicating the beneficial effects of colour and light on all levels.
Colours in Light
In studies of colour therapy, it has been shown that red and orange colours stimulate us, while violets and blue shades have a more calming affect on our psyche which may derive from our primal instinct and responses to daylight and nightfall.
At dawn, when the sun is rising and is still low on the horizon and glows red, and as it rises becomes orange and then yellow at noon. Experiments have shown that red light increases blood pressure, pulse and breathing rate, with these functions increased with orange light and reaching a a peak of activity with yellow light. Evolution has conditioned a deep psychological response to light so that the rising sun stimulates activity and alertness.
As daylight fades, the green hues of twilight give way to the darkness of night with illumination of a silent, silver moon. Experiments with green light have shown a calming reaction with decreases in blood pressure, pulse and breathing rate. The state of relaxation increase with blue light, and is at its fullest during complete darkness. White light has a similar calming effect as blue light.
Interestingly, the power and importance of sunlight has been recognised by cultures throughout ancient history. Indeed, there are present day 'sun worshippers' around the world. The sun was held in regards to some as a God (with the moon as a Goddess), as well as being a giver of light, a symbol of fire and life as it burns beyond our skies playing a fundamental part in sustaining the earth's atmosphere for maintaining life.
Organic Light
Before the invention of the electrically powered lightbulb in 1879 most people lived and worked with the rhythms of natural light, but in the present day with modern life styles, people are spending more time indoors in enclosed environments increasingly exposed to artificial light.
Just like plants, trees, and animals, humans need:
~nourishment (aspect of the element of earth) ~oxygen (aspect of the element of air) ~moisture (aspect of the element of water) ~light (aspect of the element of fire)
Studies with plants grown under different colours and conditions of light demonstrate the importance of light in our lives and show the effects of light on growth and health. Natural sunlight contains the energies of the full colour spectrum with normal levels of ultra-violet light which is essential to maintain healthily functioning cells; this is filtered out by most types of glass in windows. Filtering light, or expose to a single colour for long periods can cause cells to function abnormally, and sometimes even die. Humans, like plants, thrive in an environment with balanced light, and it is recommended to spend at least 20 minutes of your day in the presence of a natural light source. During the 19th century Jacob Lorber wrote a book entitled "The Healing Power of the Sun" published in 1851 in which he advised people suffering from various ailments to expose the affected parts of their body to sunlight, as well as drinking sun-charged water and using salt empowered by the sun to improve healing rate.
Lack of Light
The finely balanced chemicals and hormones in our bodies can become disturbed, leaving us prone to illnesses and dis-eases as a result of insufficient exposure to the full spectrum of natural light.
The reduction of sunlight intake changes the mood of most people, but for some it can have more severe reactions, resulting in Seasonal Affective Disorder (SAD) with debilitating symptoms including mood swings, low energy levels, and depression. SAD typically begins when the days grow shorter in autumn, peaks during the winter period, and normally improves with the beginning of spring.
Effective treatment for those experiencing SAD involves regular exposure of bright, full spectrum light (usually lamps with special UV bulbs), which mimics sunlight and resets the chemical balance within the pineal gland, easing the symptoms of SAD.
Quartz crystals are ideal to meditate with, or try using clusters around your home, or carry a piece of quartz with you for a boost of light energy; quartz is transparent which enables the most light to travel through it, and contains all the colours in the spectrum allowing you to experience full-spectrum light even through the dark winter months.
written by reader Tahila 0450