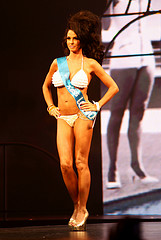 Glamour model Katie Price recently announced that she had split from her boyfriend of 2 years Leandro Penna in a separation that she had described as "amicable", however Leandro has come back with some catty comments.
Katie is well-known for being a self-made businesswoman and has been admired for juggling married life with 3 kids and a career; however, this may be exactly what has driven her current relationship to doom.
In a statement, Katie put the split down to their busy work lives which often occur on different continents; Leandro is an Argentine model. She stated that they will "remain best of friends".
Leandro, however, has hit back and declared that she drove him crazy, saying "Katie's brain is not wired right" and that this was the end of their relationship once and for all.
If you are finding that you and your partner are finding it difficult to agree, why not try a free tarot reading for some valuable insight?
Image Credit: Adrian Dutch (flickr.com)