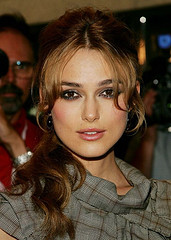 It emerged last May that British actress Keira Knightley had become engaged to James Righton, keyboardist for the Klaxons. In a recent interview on ABC's Good Morning America, it appeared that although the couple are very much in love, the strains of fame and fortune may already be getting in the way.
The presenter could not resist asking the actress about her wedding plans and Keira admitted that she was struggling to get it done.
In particular, the all-important wedding dress was a bone of contention; as an award-winning actress, Keira has received numerous offers from top designers such as Chanel and Karl Lagerfeld which she confessed she had not even thought about.
Friends of the star have said that she plans to take a long break from filming to concentrate on her marriage and home life, however it seems that she is not quite ready to give up the lure of the spotlight.
If you are wondering if your relationship can go the distance, why not take an online psychic reading and see what lies around the corner for you?
Image Credit: GabboT (flickr.com)