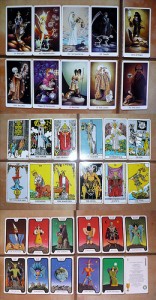 When it comes to taking a love psychic reading that involves tarot cards, it is useful to have some understanding of what some of the cards mean. On first impression, many let their preconceived ideas of what a card means dominate over the deeper meanings that a card holds, so here is general introduction to what The Lovers means.
The card depicts a naked man and woman, with the man standing by a flowering tree and a woman standing by a fruit tree. The presence of the man and woman suggest that romantic is the main topic, but this isn't always the case. For instance, the card can indicate love of something rather than love of a specific person, such as a goal or idea.
The Lovers forms part of the Fool's Journey which is represented by the whole deck of tarot cards, and The Lovers represents a crossroads. The male side represents the path of being true to oneself, whilst the female side represents a path that is all the more dangerous, yet also as sustaining and nurturing. This crossroads element suggests that there is a decision to be made, one which must be well considered.
Image Credit: Raquel Baranow (flickr.com)