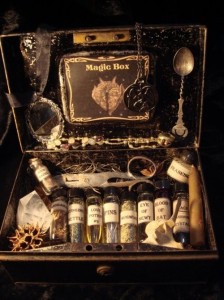 Love is the most intense and amazing emotion. It can be Bitter/sweet, wonderful/terrible. Nothing can move us so deeply and when things go wrong It can make people feel very unhappy and in some cases prepared to try anything to bring back a loved one when unlucky in love. People are willing to try anything even. MAGIC.
Magic is about interacting with the power of nature. It is about focus and positive intent and about manifesting what you want in your life.
Psychologists call people who put effort into visualizing things to manifest into their lives a self-fulfilling prophecy it still amounts to the same thing "we make things happen to ourselves"
There are many different forms of love spells some are written spells or incantations others are charms talismans, amulets or dolls to attract a partner.
Items that are defined to have magical powers are charms, talismans amulets they can bring good luck they can also ward of evil.
Some love spells incorporate a chant alone with a piece of the desired, hair fingernails or belongings. Some love spells recited over food that is being prepared for the object of his or her desire.
Love spells can include oils, plants or even animal parts that are believed to be magical representations of human anatomy an e.g. of this is a nut called coco-de-mar is used in Indonesian love spells it actually resembles female anatomy.
Love charms can be worn on the body or placed near a person's bed to draw lovers. Different types of fragrant oils have been used to attract lovers.
Ritual love spells rely on external rituals and serve only to reinforce the focus on the intended goal of the love spell.
Cards and personnel items incantations and poems are examples of external rituals such love spells may use ritual love spells to work it is left to the unconscious.
Love spells are ways for expanding and reinforcing unconditional love.
You can cast a love spell on yourself instead of on someone else with the intention of attracting compatible mates. You can also cast a spell to bring an ex-lover back in your life.
The universe arranges a chance meeting so you have the opportunity to see if there is a connection or a situation of an ex-partner, can the feelings be reignited .
A love spell is about creating the optimum opportunities for love through the power of positive thinking.
Thank you from Leticia