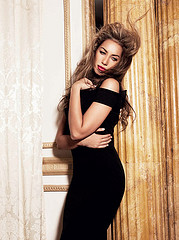 Photos of one of the X Faxctor's greatest protégées, Leona Lewis, may have had tongues wagging about her relationship status, but fans may be disappointed with the pictures as they are revealed to be shots from her latest music video.
Leona split from her long term boyfriend Lou Al-Chamaa in 2010 and has been keeping quiet on the relationship front since then. However, the stills from her new music video for 'Trouble' see a saucy relationship developing between Leona and Teen Wolf heartthrob Colton Haynes.
In the video, the pair look totally loved up, cuddling and gazing at each other tenderly before things begin to turn sour. The song is apparently inspired by Leona's break up from Lou, but all that seems to be in the past as both her and Colton have tweeted their excitement about filming the video with each other.
Perhaps this work-related meeting will turn into something more meaningful for the pair? Leona will be the envy of women everywhere if so.
If your love life is heading for a fresh start, why not take a love tarot reading for some valuable insight into the development of your relationship?
Image credit: stylegirls (flickr.com)