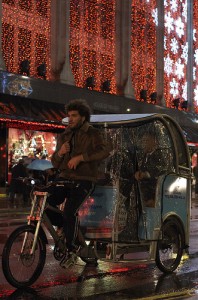 Celebrity celebrations can get expensive, with small fortunes spent on everything from weddings to birthdays. However, Mark Wright and Michelle Keegan showed that they could keep things down to Earth when celebrating Michelle's 26th in London.
The pair were spotted in a rickshaw taking them from the theatre to their restaurant, definitely a less flashy mode of transport than some stars are known for.
However, the rest of the evening was glitz and glamour all round, with Mark booking a private box for a showing of Jersey Boys and then treating Michelle to a meal and cocktails at the exclusive Nobu restaurant. They even spent a few days in Spain ahead of the night out.
Michelle looked happy the entire night, whilst Mark was protective and obviously in love. Achieving a happy relationship takes time and commitment, and if you want to discover what you truly want from love, a tarot card reading could help you do just that.
Image Credit: Steven Foers (Flickr.com)