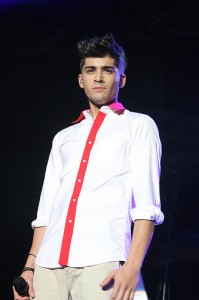 One of the happiest showbiz couples on the planet may be in trouble this week after a waitress told papers that she had slept with One Direction's Zayn Malik, who was dating Little Mix's Perrie Edwards.
The golden couple who both found fame on the X Factor held crisis talks last night when Zayn flew to Nottingham almost immediately after the expose, where Perrie was due to perform a gig with Little Mix.
Courtney Webb, the waitress in question, claims to have not realised that Zayn had a girlfriend until after she had stayed over, and, apparently outraged at his cheating, took photos of him sleeping next to her and showed them to major British tabloid The Sun.
The pictures certainly look incriminating and neither Zayn nor Perrie have commented on whether the accusations are true or not, or if they are still together.
If you are feeling like your heart is on the line, why not take a love psychic reading and see what lies in your romantic future?
Image Credit: Eva Rinaldi Celebrity and Live Music Photographer (flickr.com)