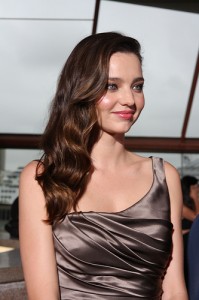 Rumours have been spreading that the marriage between Orlando Bloom and Miranda Kerr is on the verge of collapse, with Bloom's mother declaring them untrue whilst the papers have been speculating.
The British actor and star of the Pirates of the Caribbean movies married the Victoria's Secret model in 2010 and the couple have a 23-month-old son together, and all has seemed to be going well for the family until now.
An American magazine called In Touch said that the couple have decided to "take a break" and are currently separated and trying to figure out what they should do next. Miranda has been spotted on a number of occasions without her wedding ring on and has been seen partying with single Hollywood hunk Leonardo DiCaprio, whilst Orlando has apparently been in South Africa for the filming of his latest movie Zulu.
A spokesman said that they are spending Christmas together and hopefully they will have time to work on their relationship then.
If your relationship is heading for the rocks, why not take a love tarot reading and see what your heart really wants?
Image Credit: Eva Rinaldi (flickr.com)