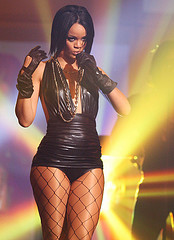 Sometimes people are just meant to be together and, despite the troubled history between singers Rihanna and Chris Brown, the pair are set to rekindle their romance.
The couple ended their relationship in 2009 after Chris assaulted Rihanna and she posted photos of the results of his beatings on Twitter. Chris has since dated model Karrueche Tran for over a year, however he recently called it off after he was seen kissing Rihanna on a night out.
Rihanna has been busy putting finishing touches to her latest studio album, but she has managed to spend plenty of time with Chris, seeing him late at night a few times a week.
It is only a matter of time before the couple announce to the press that they are officially back together, and hopefully Chris will be able to keep his temper in check this time round.
If your love for someone is rekindling, why not take a free psychic reading for some sensitive guidance for your romantic future?
Image Credit: MiKeARB (flickr.com)