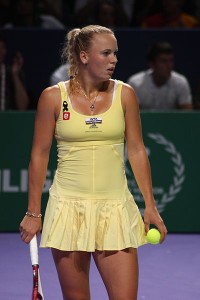 Rumours are abound that champion golfer Rory Mcllroy and Danish tennis player Caroline Wozniacki have gotten engaged after the latter star was pictured with a huge diamond ring adorning her finger.
The sporting beauty was spotted arriving in Australia with the massive ring on Friday, and did little to hide the ring, whilst a photograph of a diamond and sapphire band also spotted on her hand even sparked speculation that the two sport stars had already got married in secret.
Caroline was forced to react to a prank pulled by tennis player Sascha Bajin, who took to Twitter jokingly congratulating her and Rory on the couple's happy news.
The two appear to be deeply in love, but if you are reading this and are wondering when you will find your perfect match, why not gain some insight into your future and take a free tarot reading? It could help you find the happiness you seek once and for all.
Image Credit: Haruneskar (Wikimedia commons)