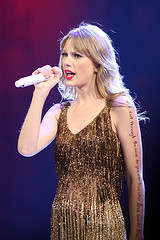 Although a number of people have branded rumours that Taylor Swift and Harry Styles are dating as rubbish, the pair seem to be acting as if they are a couple.
Taylor and Harry were seen together in public recently, an outing which looked very much like a date. They were seen in New York last week, strolling through Central Park and visiting sea lions at the zoo.
They reportedly dated in April but split after Harry was photographed kissing model Emma Ostilly, but they now seem to be getting closer again and look "happy to be together" according to one onlooker.
Taylor and Harry also sang a duet together at One Direction's Madison Square Garden gig this week, and the couple were seen heading back to Taylor's hotel at 4am after the after party, holding hands.
If you are getting into a relationship that is beginning to blossom, why not take a free tarot reading and see what your heart is really telling you?
Image Credit: Eva Rinaldi (flickr.com)