The day of Remembrance is an annual commemoration observed in Commonwealth countries. Remembrance Day is also known as Poppy Day or Armistice Day and is observed on 11 November every year. The date symbolises the end of hostilities and honours the 11th hour of the 11th day of the 11th month, of 1918, when the agreement was made. All members of the British Armed Forces who have died in the line of duty since the end of World War I are remembered at this time.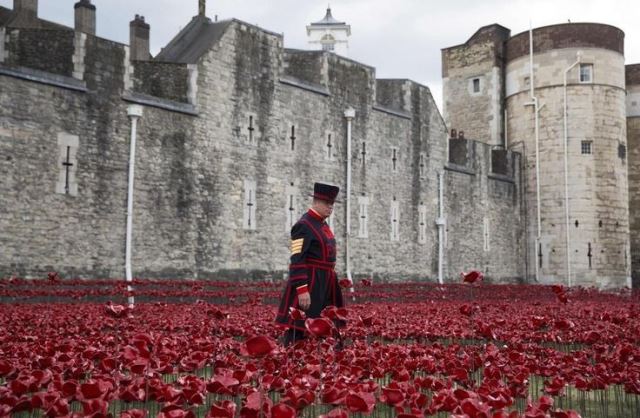 Poppy Appeal
To raise money the remembrance poppy has been used as an effective fundraising tool since 1921. The distinctive red poppies are made from paper and plastic and sold in support of the Armed Forces community. All of the money raised from sales of the lapel pin poppies goes directly to welfare work with serving Service personnel, veterans, and their families. This year the Royal British Legion hopes to raise £40 million from the Poppy Appeal, with poppies available and on sale in shops, supermarkets, petrol stations, clubs and pubs.
It takes over 350,000 volunteers and staff to organise the Poppy Appeal each year. It's estimated that more than 40 million Remembrance poppies, 500,000 poppies of other types, 5 million Remembrance petals, 100,000 wreaths and sprays and 750,000 Remembrance Crosses are made for sale every year.
Donation Details
When you buy a poppy your donation goes towards: Helping bereaved families and wounded Service men and women and assisting and supporting younger veterans seeking employment and housing. Donations also help to care for elderly veterans and to provide greater rehabilitation and support for today's returning heroes. The Royal British Legion and Haig Fund provide financial, social, emotional, physical and political support for those who have served, or are currently serving in the British Armed Forces.
Fashionable Poppies
The lapel poppy has become an easily recognisable emblem of the charitable efforts of the Royal British Legion with celebrities and famous faces showing support for the cause. The Poppy Appeal is the highest profile charity appeal in the UK and many national newspapers and magazines promote the annual commemorative event with special coverage from late October to mid November.
There is also an official Royal British Legion online shop that stocks Poppy Collection jewellery brooches inspired by the classic and traditional red paper and plastic lapel pins. All proceeds from the sales goes directly to the Royal British Legion charity.
In Loving Memory
For families of serving Armed Forces Service men and women buying a Remembrance poppy has become a traditional way of commemorating and honouring the memory of the fallen. Making a donation in memory is a touching way to remember someone special. Even if you have no connection to the Armed Forces you can still support the cause as a special salute to Service men and women, past, present and future.
For the families of younger heroes the 11th November is a poignant time of personal remembrance. Those who have lost loved ones may seek comfort in reflection and in honouring memories. Those with spiritual beliefs may also find additional support from a spiritual reading at this sensitive time.