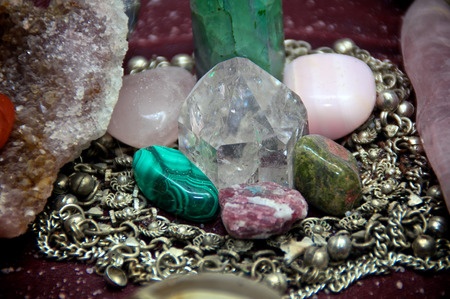 Each of the 12 astrological signs has a unique birthstone. The semi-precious zodiac gemstones are often used to maximise positive character traits, of the sign, and to minimise negative aspects and weaknesses.
Increased interest in astrology and esoteric matters now means that there is the perfect 'everything' for each of the zodiac signs. From colour, crystals and flowers to careers, cars and cheeses, your zodiac sign determines many of your individual qualities and likes and dislikes.
How To Use Crystals
To maximise the astrological power of your birth sign choose a corresponding crystal. You can empower your meditation sessions by holding the crystal or positioning it on your chakras. You can also keep a pocket-sized crystal close to hand for regular on-the-go energy boosts.
Your Zodiac Crystal Guide
Capricorn – 22 December – 19 January
Crystals that are purple, green and various shades of rich gold, brown and yellow are perfect for practical and prudent Capricorns.
Choose: Amethyst, Malachite, Gold Tiger's Eye
Aquarius – 20 January – 18 February
Metallic and dark silver or purple crystals match the Aquarian's original and inventive streak.
Choose: Hematite, Amethyst
Pisces – 19 February – 20 March
Idealistic Pisces can take their pick from a selection of blue, purple and blended colour crystals.
Choose: Turquoise, Blue Lace Agate, Flourite
Aries – 21 March – 19 April
Dynamic Aries has a variety of bold crystal shades to choose from: yellow, blue, red or green.
Choose: Citrine, Blue Kyanite, Green or Red Aventurine
Taurus – 20 April – 20 May
Crystals that are earthy red/brown or pink are ideal for warmhearted Taurians.
Choose: Carnelian, Red Jasper, Rose Quartz, Rhodonite
Gemini – 21 May – 20 June
Youthful Gemini's perfect power crystal is colour blended and distinctive.
Choose: Blue Celestine, Watermelon Tourmaline, Citrine
Cancer – 21 June – 22 July
Crystals that are pale shades of beige, cream and white, and a range of yellow/orange and brown are typical gemstones for protective Cancerians.
Choose: Moonstone, Carnelian
Leo – 23 July – 22 August
Generous Leos can opt for crystals in the yellow/orange/brown/gold family of colours.
Choose: Citrine, Carnelian
Virgo – 23 August – 22 September
Modest Virgo can feel more empowered with a distinctive crystal that is flecked with speckles of colour.
Choose: Snowflake Obsidian, Amethyst, Watermelon Tourmaline
Libra – 23 September – 22 October
Soft, romantic shades of pink and blue, and pale beige and cream are the ideal crystal colour choice for charming Librans.
Choose: Rose Quartz, Blue Kyanite, Moonstone
Scorpio – 23 October – 21 November
Magnetic Scorpio's prime zodiac crystal can be vibrant green or turquoise, or creamy shades of beige and pale yellow.
Choose: Malachite, Turquoise, Moonstone
Sagittarius – 22 November – 21 December
Honest Sagittarians have a straightforward choice when it comes to selecting crystals. Pick pale blue, with white threads, or vibrant turquoise.
Choose: Sodalite, Turquoise
The Benefits Of Crystals
Crystals have many powerful properties that can assist in healing on a physical, emotional, mental, psychological and spiritual level. These beautiful semi-precious gemstones emit an energy boost that balances your spiritual energy and enhances your mood, emotions and feelings. Carrying around a crystal that corresponds with your birth sign awakens your divine spirit and increases your physical energy so that you feel more energised and empowered.