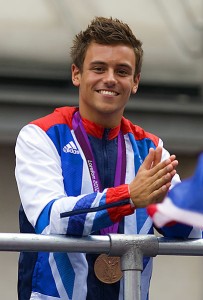 Olympic bronze-winning diver Tom Daley was pictured sharing ice cream and skimming stones with blonde bombshell and pop singer Lemon, leading some to speculate on whether he has a new crush.
Looking every bit like a young couple intent on having some fun, Tom and Lemon seemed to be having a wonderful time in each other's company.
They spent the day skimming stones on Plymouth Hoe before buying ice creams and sitting in a park, with Lemon at one point playfully covering Tom's nose with her cone.
Young love is a beautiful thing, but some people forget what it feels like. Why not take a love tarot reading today and get some answers on whether you are happy in your current relationship, or are looking for a new and exciting romance?
http://commons.wikimedia.org/wiki/File:Tom_Daley_London_(cropped).jpg