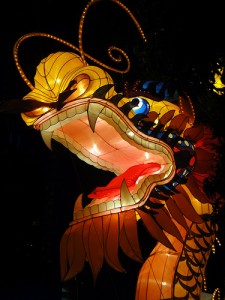 Chinese New Year on 10th February is fast approaching, an ideal time to take an online tarot reading and see what changes the Year of the Snake in 2013 could bring for you. There is still time to make the most of the Year of the Dragon and here are a few tips of things that you can do during the final weeks of the most fortunate Chinese zodiac sign.
Dragon energy is very strong energy, bringing great fortune to anyone who can channel it well. Firstly, anyone who owns a dragon statue should take a moment to dust it off, reenergizing both you and the dragon for the remaining few weeks.
For wealth, Dragon years are particularly good for stimulating monetary gain. The far left hand corner of your home is known as the wealth area of the house, and as this is a Water Dragon year, placing something blue or water-related in this area can help generate good fortune in finance.
Image Credit: Matt Kieffer (flickr.com)