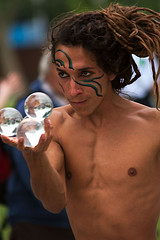 Many people find taking a psychic reading helpful, whether this is to receive positive guidance to cope with a situation or to know what could happen in the future. One person who has been very public about their visit to see a psychic is the X Factor's Rylan Clark.
The singer, model and dancer has survived elimination week after week, much to the annoyance of a number of X Factor viewers, judges and producers. Rylan has continually been to see a psychic named Alex Thornhill, who has predicted that the Essex lad will leave the show.
Although this prediction has yet to come true, it has resulted in Rylan pulling his best performances out of the bag each week, and the psychic reading has meant that the singer is finding new energy to put towards his musical sets, drawing him closer to deserving a place in the final. For Rylan, this psychic prediction has certainly brought the best out of him.
Image Credit: Garry Knight (flickr.com)